Food in Maldives :
There is no dearth of foods in Maldives as this beautiful Island offers you a number of delicious dishes to choose from. You can find diversity in its cuisines and it offers you unlimited courses of food except traditional food. There are many restaurants accomplish the need of people who are fond of international cuisine. Know more about what to eat during your Maldives.
There are a variety of foods available in Maldives range from traditional, Indian and foreign. You can find many fast food joints here that offer burgers, hotdogs, pizza, cakes and pastries. There are many resorts that serve international cuisines. You will not get any roadside food stalls in Maldives.
Here is mentioned the list of some famous Maldives restaurants: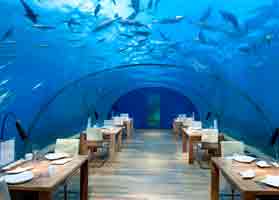 Ithaa:
Known as the only underwater restaurants on the earth, Ithaa is created 16 feet under sea level at the Rangali Island. The resort is preferred for its extraordinary hospitality and luxurious setting.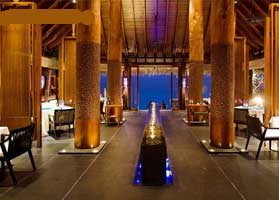 Reethi Restaurant
Placed close to an eco-friendly Reethi Beach, the restaurant is the best place to dine. Just listen the sound of waves, watch the fish swimming below and sip a cup of coffee or enjoy your favorite drink.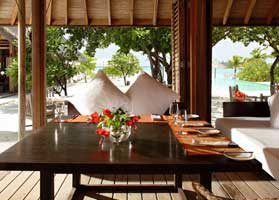 Ufaa Restaurant
This luxurious property is located in the Cocoa Island and offers you a great time. You can find a combination of Indian, Sri Lankan and Mediterranean foods to taste.